The Crazy Table (and so much more….)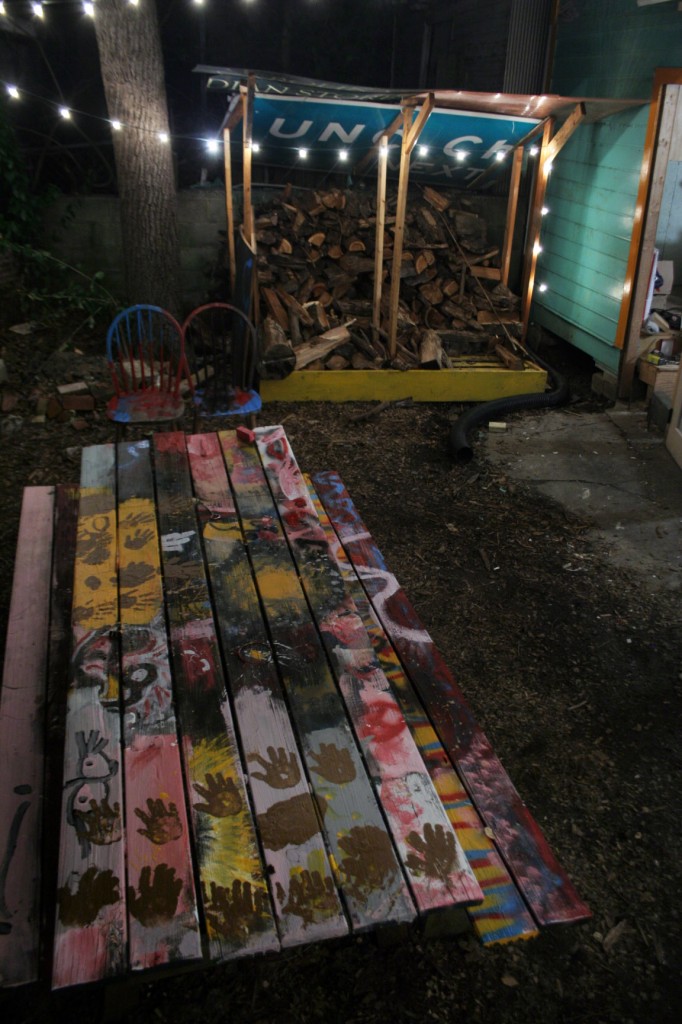 I started writing this donor update on the construction of the studio walls, and it turned into an update on the ways visions of the studio space have developed and grown this winter…. so i figured i'd post it here, too!
In February I traveled to Oaxaca with hopes of learning about the inner-workings of an art collective there called ASARO (La Asemblea de Artistas Revolucionarios de Oaxaca / The OaxacanAssembly of Revolutionary Artists). My intentions were to understand more about how folks work in movement-alined art collectives, in hopes of being involved in one here in Durham. The trip, like most, became a lesson in letting in and letting go–I got swept up in a magic creative current, floating out deeper towards some kind of crazy shore, albeit not the one I had imagined when I set out on the journey.
When I first arrived in Oaxaca, it seemed like everything was laid out in the perfect path. All I hoped to learn about was serendipitously showing up on walls and in poems, floating to the surface in symbols of radio towers and potatoes. I spent a lot of time at ASARO's art studio, watching films and helping screen-print. I asked questions about process and form, and how members organize assemblies. People mostly answered by saying things like, "We're friends who do art together. Want to learn how to carve a wood-block print?"
I started picking up on this incredible undercurrent of energy, and after a couple of weeks, my attempts to "figure it all out" had pretty much given way to the work itself. I explored other collectives inOaxaca, totally humbled by the openness I received. I got to make books, carve woodblock prints, paint murals, and spray paint stencils. And make friends. Tons of friends. The energy was clearly coming from a source that no one person (or process) could create. I was starting to understand that, altho process and form are important tools for keeping things organized, they don't seem to make up the foundations of the collectives. One person said, "You don't really need to think or talk about 'starting a collective'. You just need a space to gather and do art with your friends." (I was later thinking maybe it's like how you might not want to start a first date with someone with a conversation about how you're going to "go about" dating. You might just want to go roller skating).
On our last night in Mexico, my travel companion and I ate dinner with my friend, Guiomar, an incredible writer and revolutionary. We talked excitedly over pizza about art, movement, and the creative undercurrent of energy that carries so much. We talked about how the flip-side of the current's force is how entitled and silly it can be to try and "make" people move if they aren't already moving with that energy. She dropped her slice of pizza, and said, "But don't you see it? You already have it! Your friends already have it! Your art studio already has it!" It was like she was bringing it all around full circle–like all we had to do was click our ruby slippers and it would all be right here at home.
So, when I got back, I just waited, and listened. And sure enough, I sensed all this energy of folks here who are creating, moving, shifting, drawing, gathering. People are designing posters, burning screens, sketching budding branches. Quilts are being sewn; poems are being written up on walls; houses are transforming into galleries.
So! As for a specific update on the studio here at Queen Street, I'm cutting the bottles for the wall, and installing the soldering ventilation. I've been working on kaleidoscopes, and building work-benches. But what I'm most excited about is that the emphasis is slowly shifting from the construction of the space to the creative work. Last Saturday some folks–including lotsa kids– came over to figure out how to use the screen-printing easel. It was a magical morning, which ended up flowing more towards making empanadas and painting the "crazy table". So, here's to the first creative gathering in the studio, which I'm realizing with gratitude and love, will never (and always) be "complete."